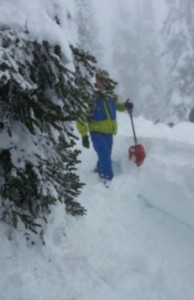 In Central Alberta this winter, we will get snow.  That's a a guarantee.  How much?  Well, that's anybody's guess.  We have had winters where piles were so high that it covered street signs.  Other winters were so mild people were driving on dry pavement and the grass was visible on new-years day.
Snow removal is a service that BJ Bobcat and Trucking  Ltd. offers to commercial customers.  Business owners are encourage to phone our office before winter arrives to discuss our pricing contracts.  When a snow storm hits Red Deer, snow removal demand exceeds our capacity to offer service to "walk-in" customers without a contract.
Phone (403) 352-2206 to talk about a snow removal contract.